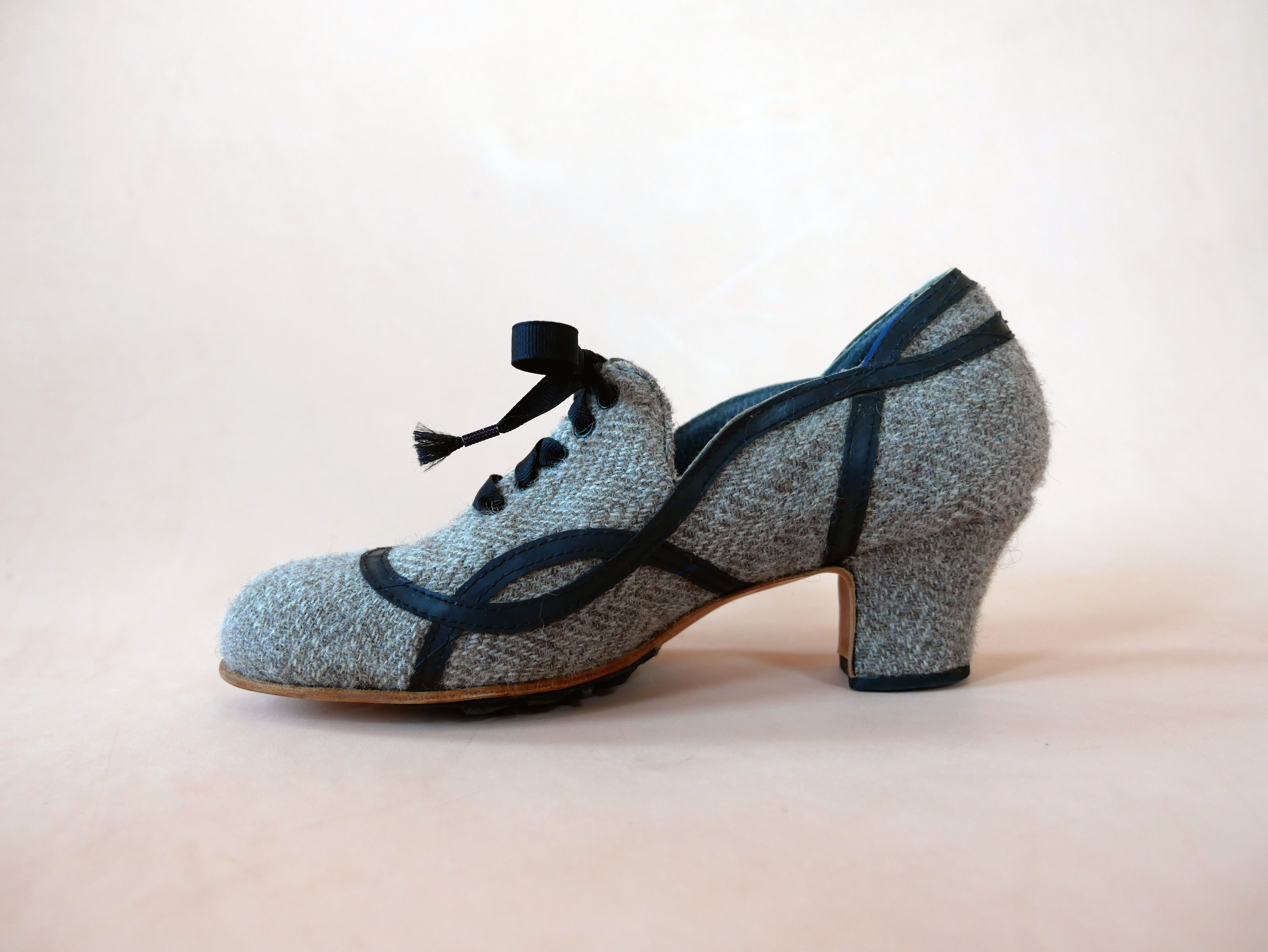 The Holyoke Bicycle Shoe was created as part of the Western Massachusetts Fibershed by Daphne Board of Holyoke, MA.
The Western Mass Fibershed's debut project is currently on display at the Hitchcock Center for the Environment in Amherst, MA. The exhibit, titled "FIBERSHED: Woven Together," celebrates the successful production of bioregional wool fabric that was fashioned into original designs by ten local craftspeople. The exhibit ends January 3, 2020.
All fiber was spun by Green Mountain Spinnery and woven by Peggy Hart of Bedfellows Blankets.
From bespoke shoes to flat caps and everything in between, ten expert artisans turned the flat fabric into one-of-a-kind, wearable items. Alongside the completed apparel, the fiber, yarn, cloth, and narrative storytelling materials will be on display to educate the public about producing local textiles—introducing them to the land, the people, and businesses integral to the journey.
"Draped Cocoon" is a mid-weight jacket inspired by metamorphosis. Designed by Anna Gilbert-Duveneck of Framingham, MA. (Photo by
Travis Widrick)
"The Western Mass Fibershed project was an interesting opportunity to consider materials in a new way and to stretch what I considered to be materials I could work with: locally woven wool, which I did not know existed, and discarded bicycle rubber, which I have not before used as decoration," says Daphne Board, Shoemaker for the exhibit.
Western Mass Fibershed received a micro grant for this debut project from Fibershed California, an organization that develops regional fiber systems that build soil and protect the health of our biosphere. With this funding, the Western Mass Fibershed embarked on a two-part mission: first, to navigate new territory to map the process and potential for future bio-regional cloth-productions and second, to inspire,
educate, and generate interest for locally sourced, sustainable materials.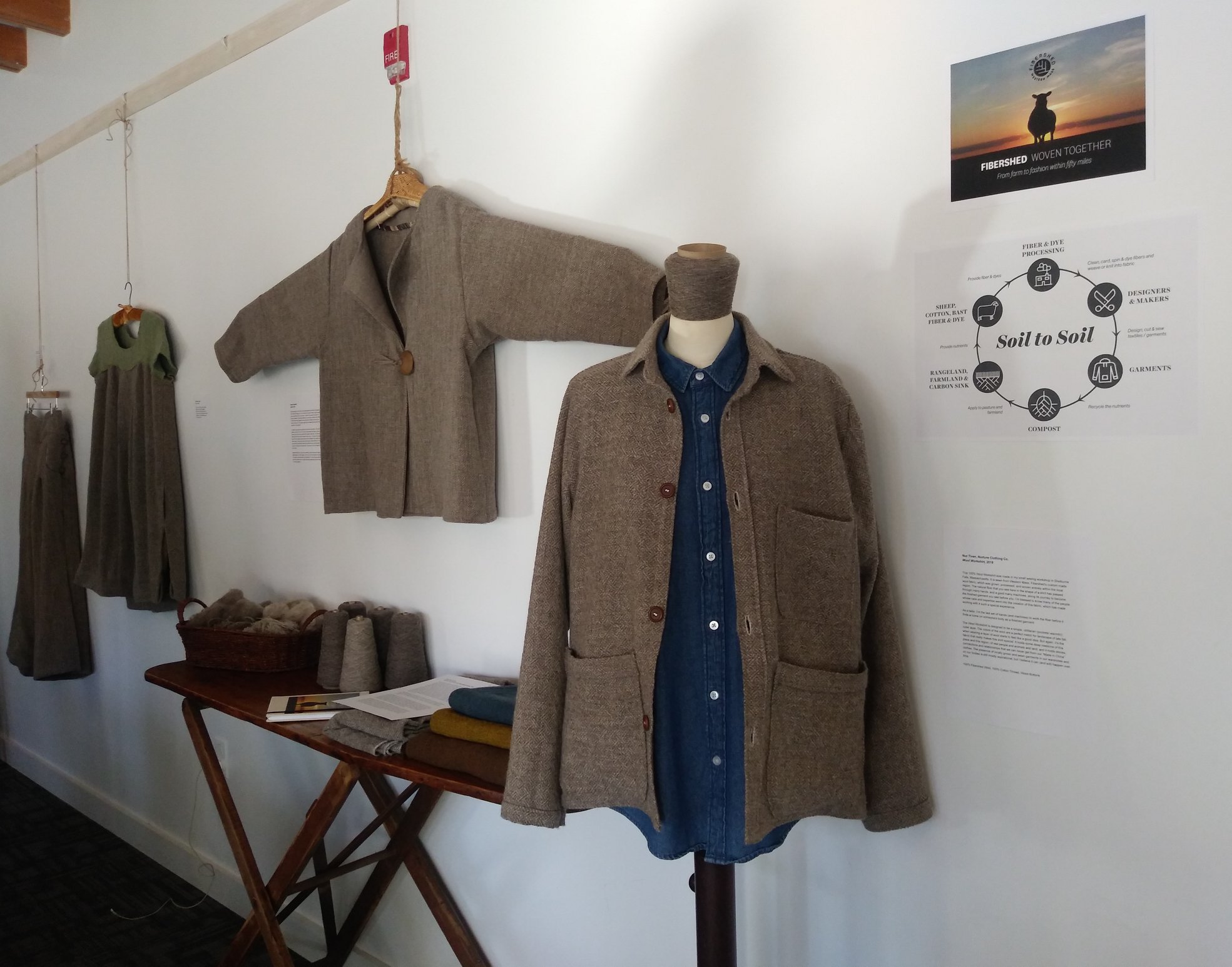 The "FIBERSHED: Woven Together" exhibit is in Hitchcock Center Center for the Environment's building, a space recognized as the 23rd in the world to achieve living building status
Uniquely situated, regional resources enabled the metamorphosis from farm to fabric within a 50-mile radius! This project aligns with Hitchcock Center's commitment to explore, "the interconnections between the health of humans and ecosystems" and more.
The exhibit opened Monday, November 4th with an opening reception including the Fibershed founders, farmers, spinners, weavers, and designers who were involved with the project and others interested in sustainable practices.
Participating designers include:
Daphne Board
Katie Cavacco
Anna Gilbert-Duveneck
Erin Kiesel
Leonore Alanis
Nur Tiven
Joanne Semanie
Gretchen Laise
Larisa Demos
Sarah Shields
For questions and to learn more about this project please contact Western Mass Fibershed co-founder Michelle Parrish.
Parrish is a natural dyer, weaver, spinner, and blogger living and working in the Connecticut River Valley of Western Massachusetts.
localcolordyes@gmail.com or www.localcolordyes.com 413-461-5588
WHERE:
Hitchcock Center Center for the Environment
845 West Street, Amherst MA 01002 | 413.256.6006 | 413.253.2809