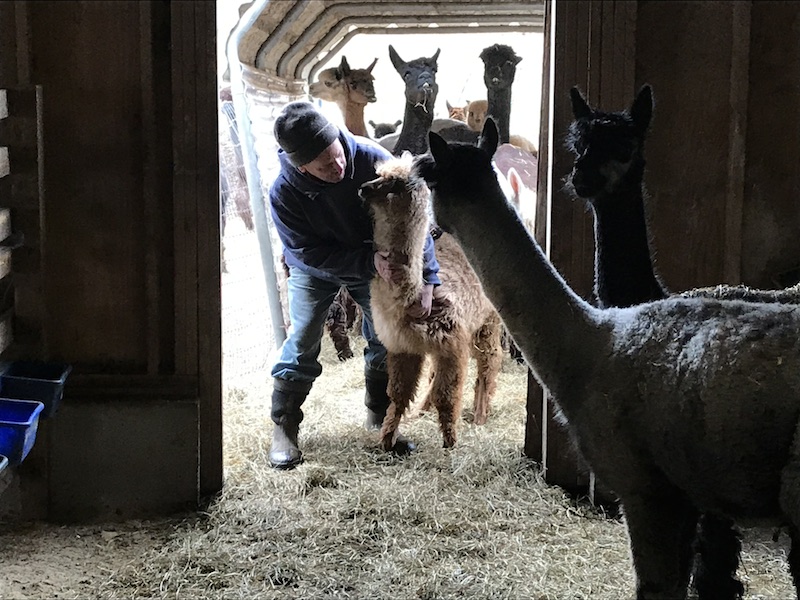 Moonlight Rose Alpaca Farm owner Dave Rose
We are so thankful to Fibershed for giving us a grant to develop a carbon farming cohort in Southeastern New England. Our goal for this project is to strengthen the fiber farming community and encourage expansion in regeneratively-managed fiber animal grazing land in Southeastern New England by following Fibershed's Climate Beneficial work.
The Southeastern New England Fibershed team began discussing the idea of creating a 7-farm Carbon Farming Cohort in our region inspired by Fibershed's ongoing regenerative farming work. That vision took a step closer to reality when we were contacted by our key partner, Chris Riley of Golden Touch Alpaca Farm and the New England Alpaca Fiber Pool (NEAFP), who was interested in connecting with other local alpaca farmers to discuss carbon farming potential in their grazing and animal management systems.
Located in Swansea, Massachusetts, carbon farming cohort member Moonlight Rose Alpaca Farm is one of the top alpaca breeder farms in Massachusetts. Founded in 1999, the 8 acre farm is a go-to source for Herdsire alpacas for sale, alpaca yarn, alpaca fiber and a number of other alpaca products, founder Dave Rose has created a space well-known for alpaca enthusiasts. All of his animals are certified with the Alpaca Owners Association, which provides a pedigree registry similar to the American Kennel Club. He shows his animals at the Big E and the North American Alpaca Show.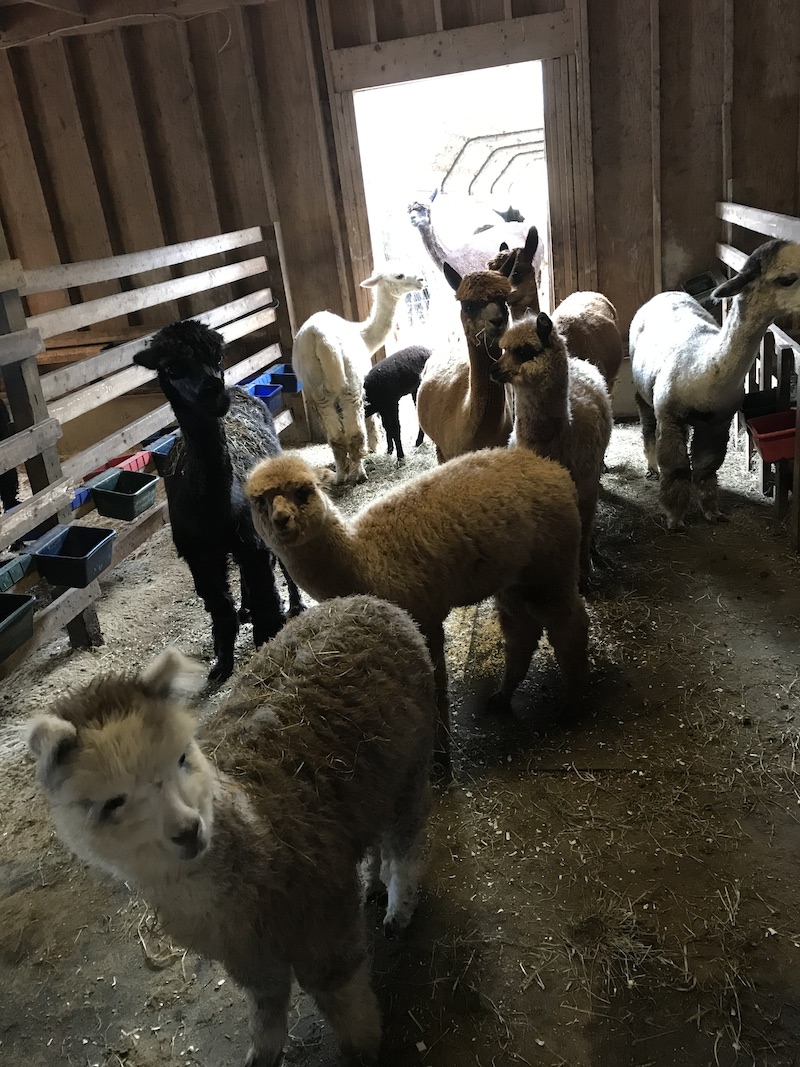 Having raised alpacas for around 20 years, Dave said he got into the business after he saw an ad in a farming magazine for alpacas and thought it might be something to try after retiring from 27 years at the USDA. While preparing for his next chapter, Dave purchased seven alpacas and now has a total of 72. Sometimes your full time occupation gives you the tools for what's next and as the USDA's County Executive Director for almost 3 decades, Dave was responsible for everything from subsidized programs to conservation. At our alpaca cohort meetings, thanks to his knowledge of grants, soil and farming, he has proven to be a valuable sounding board for many conversations.
"Farmers can get really stuck in their ways, they're a stubborn bunch generally," Dave says when I ask him about the acceptance of talking about carbon farming. "They know what they need to be doing but they say 'this is just the way we've done things for last 20 years and this is the way we will do things for the next 20.' Times are changing and farmers need to adjust."
He admits that changing and accepting new terms or practices (that are actually very old) like carbon farming, is just how farmers should be running their businesses. But as for the terminology, Dave says it's just another way of promoting locally and sustainably grown products.
"I do not believe it is confusing, I just don't think very many people relate healthy plants to carbon farming. They look at healthy plants and are just concerned about yield, carbon sequestration isn't on their radar," he says, adding that farmers have to adjust what they do constantly to what's working and what isn't.
"Farming is all about constantly adjusting so you don't get left behind or go out of business," he says.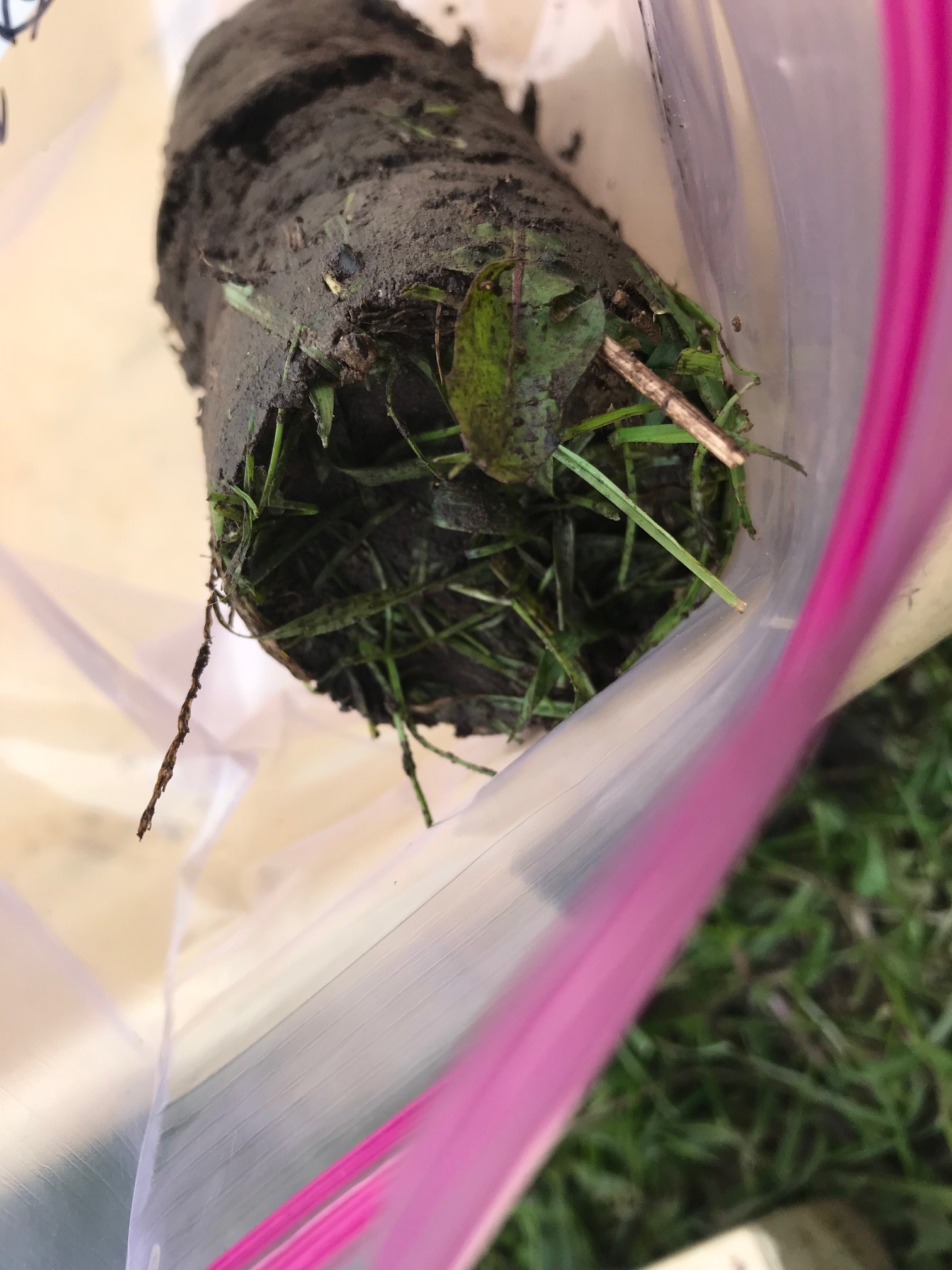 Soil sample from Moonlight Rose Alpacas pasture
As part of our alpaca cohort, Dave has also served as our chief realist and in-house (though he'd never admit it), comedian. For instance, when asked about his relationship to his current piece of property Dave answered:
"My relationship with my current property is that we are not married just living together."
A man of few words, Dave admits that he wanted to be part of the cohort as a way to reframe what he does.
"I thought this was a good way to rebrand the alpaca products I sell as 'climate beneficial' rather than just 'sustainable' as the term is just so overused at this point," he says.
To get his Climate Beneficial alpaca fiber certification next year, he has begun his practices as outlined on the Fibershed page. Currently, he has renovated one pasture by frost seeding and fertilizing and he'll be spreading lime on two more fields in the fall. He bought a manure spreader and has mulched and composted and will be doing nutrient management as well as forage and biomass planting.
"I am not a skeptic of carbon farming. I learned long ago about the relationship between plants and how they help purify our environment. Soil health is always on my mind whether it is about growing food for human consumption or growing food for the alpacas. You have to take care of it or you are not going to be successful in either case," says Dave.
Read more on our alpaca cohort members: