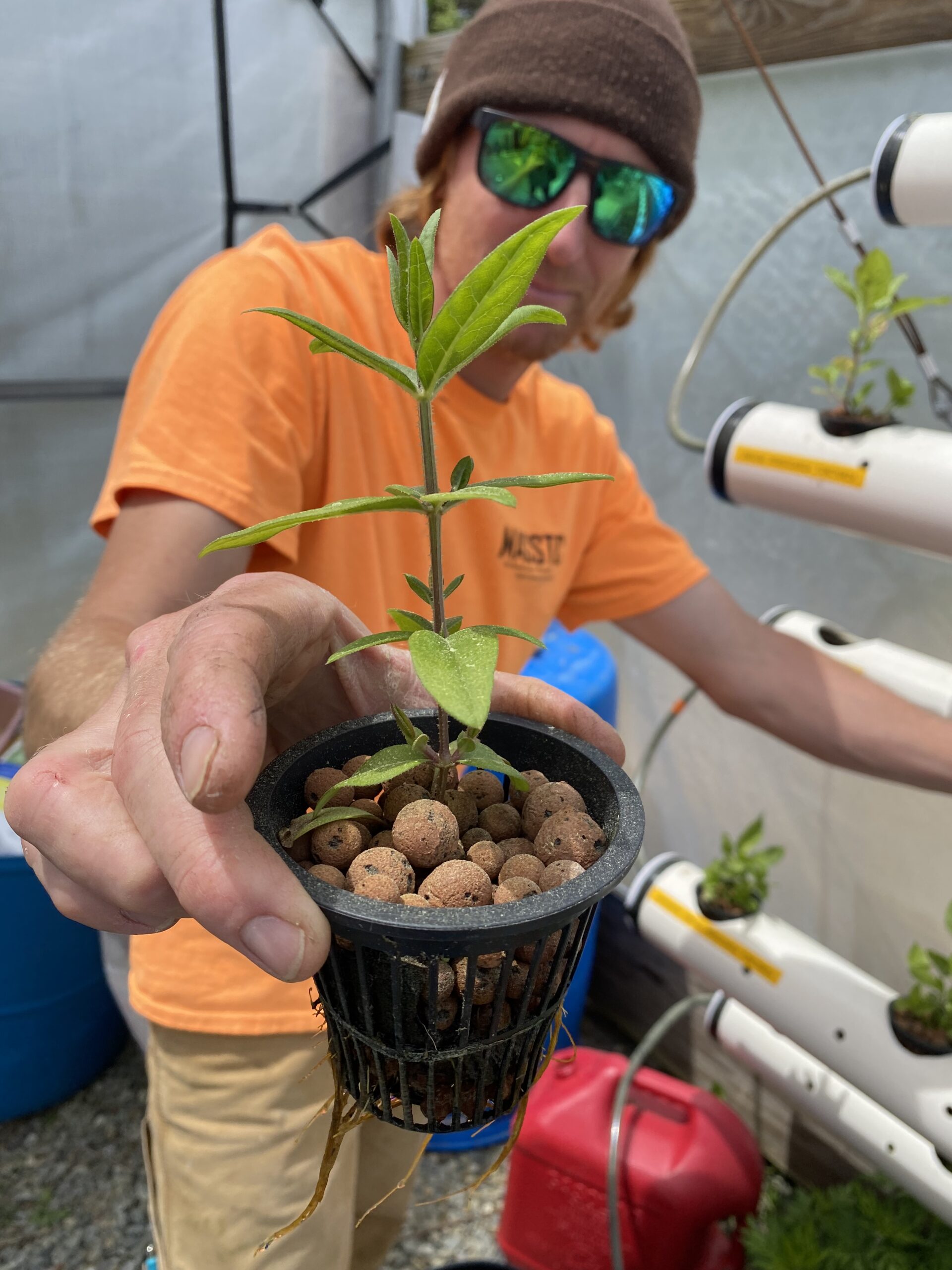 You might ask, how on earth did a project on wastewater's impacts on natural dye plant growth and color come into being. It all started with a visit to a Cape Cod Air Force base and what looked like an X-Files set…
Month's ago I was interviewed by Brian Baumgaertel, Massachusetts Alternative Septic System Test Center (MASSTC) Director; I/A Tracking Program Administrator and Americorps on their podcast, "One Drop Leads To Another," on the impact of the fashion and textile industry on water. MASSTC is the nation's premier third-party testing and research facility for innovative/alternative (I/A) onsite septic treatment technologies.
(They are also that perfect X-Files-like set on an Air Force Base.)
In addition to a background as a seasoned journalist in sustainable fashion, my full time job is Sustainability Director of Botanical Colors. As the the #1 dye supplier in the U.S., we work with farmers worldwide and are increasing our collaborations with natural dye farmers in the U.S. When I say "collaborations," I mean we are working with natural dye farmers who can provide raw dye materials to us through organic and regenerative farming practices. Think indigo, madder root, walnut, Osage orange sawdust, black hollyhocks, marigolds and coreopsis (but the list is growing).
Kathy Hattori, the founder and President of Botanical Colors and I talk a lot about water and the future of farming. I mentioned during the interview that it would be interesting to try growing plants at MASSTC with wastewater and everyone's eyes lit up. The next day I saw a big seed order on the Botanical Colors site and knew there was officially work to do.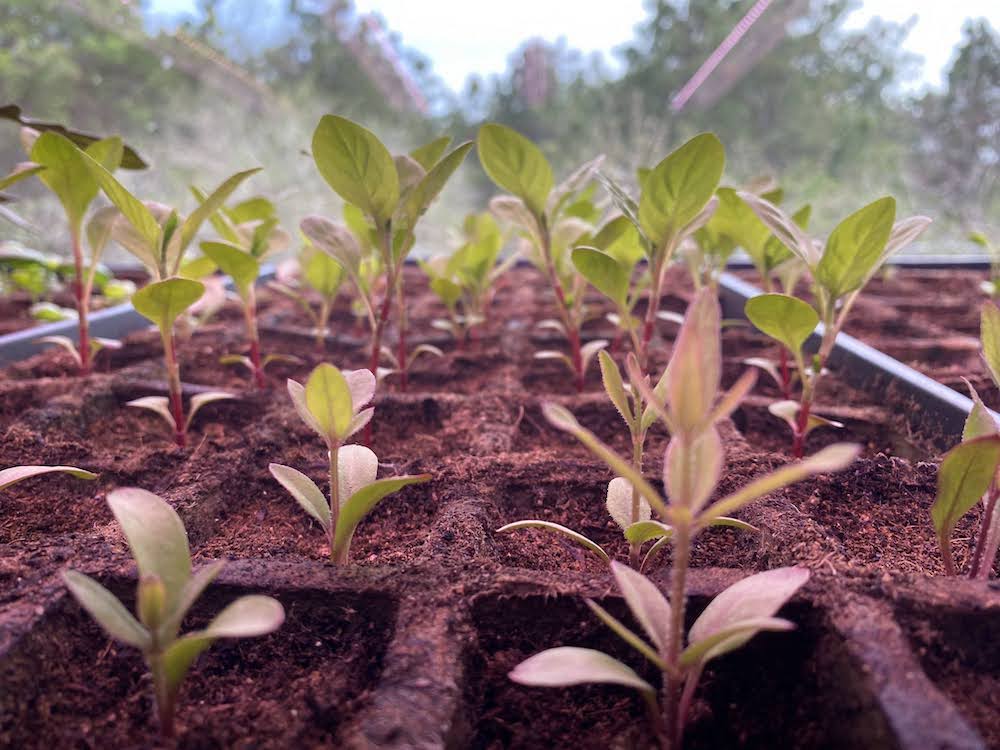 Indigo and madder growing late spring, inside under lights
Bryan Horsley, MASSTC Site Operator (featured in many of these pictures), began growing seeds indoors late winter/early spring and we even tried growing them with waste wool from a small, local farm owned by Heidi Pleso. Interesting, but not notable in terms of how strong and quickly the seedlings grew.
When the weather got warmer, Bryan revived a hydroponics system at MASSTC and we put the indigo seedlings as well as madder and Hopi Sunflowers officially in wastewater. The rate at which they have grown is mind-blowing. We had to move them recently into buckets as the root systems were clogging the hydroponics!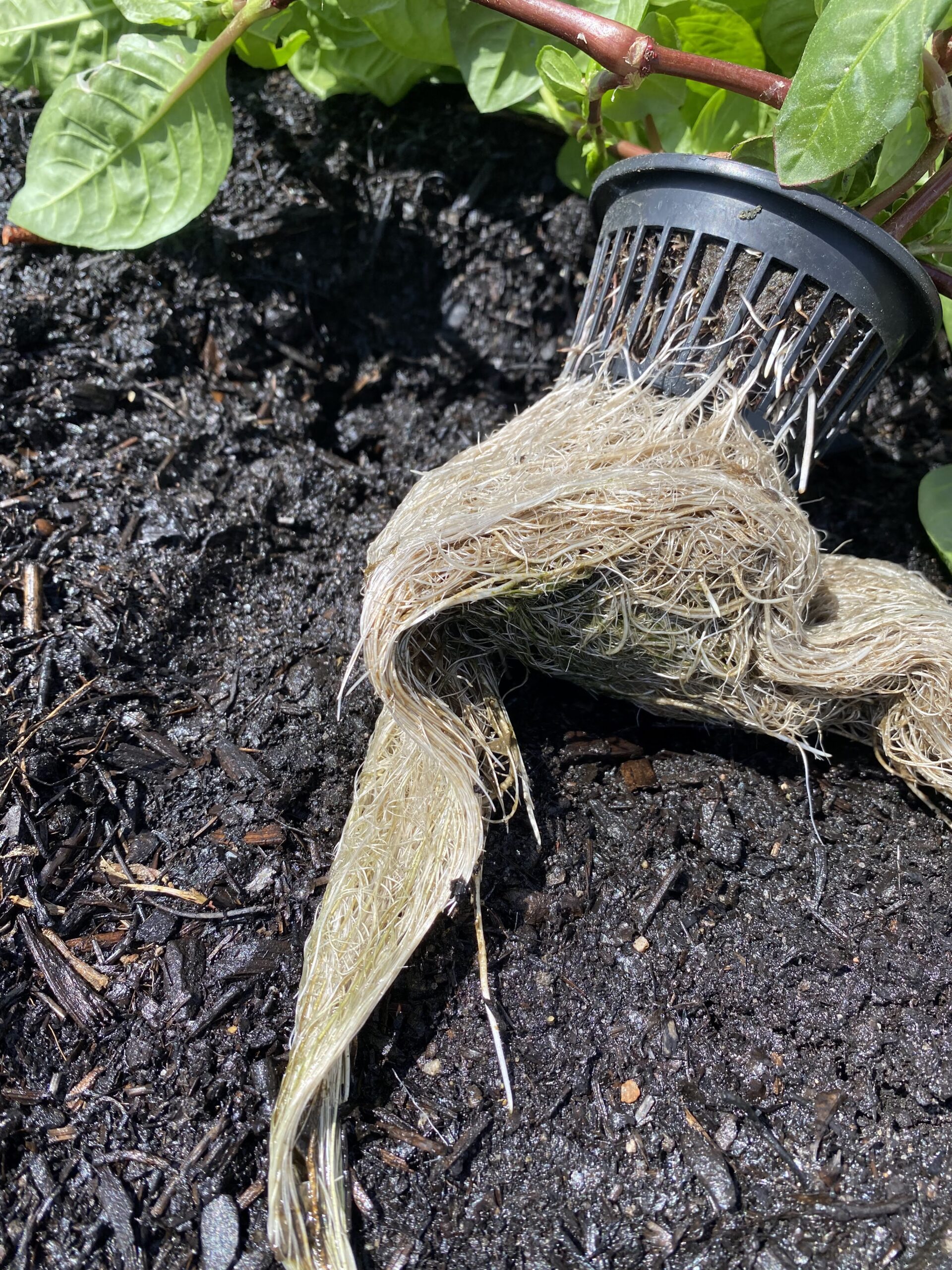 Persicaria tinctoria hydroponically grown
We now have a system where we first move them into a bucket, water with wastewater and let the first shockwave hit before we put them in the ground in another area we recently created. The new plot is fed by lightly filtered wastewater, is set on a timer and comes out of PVC pipes.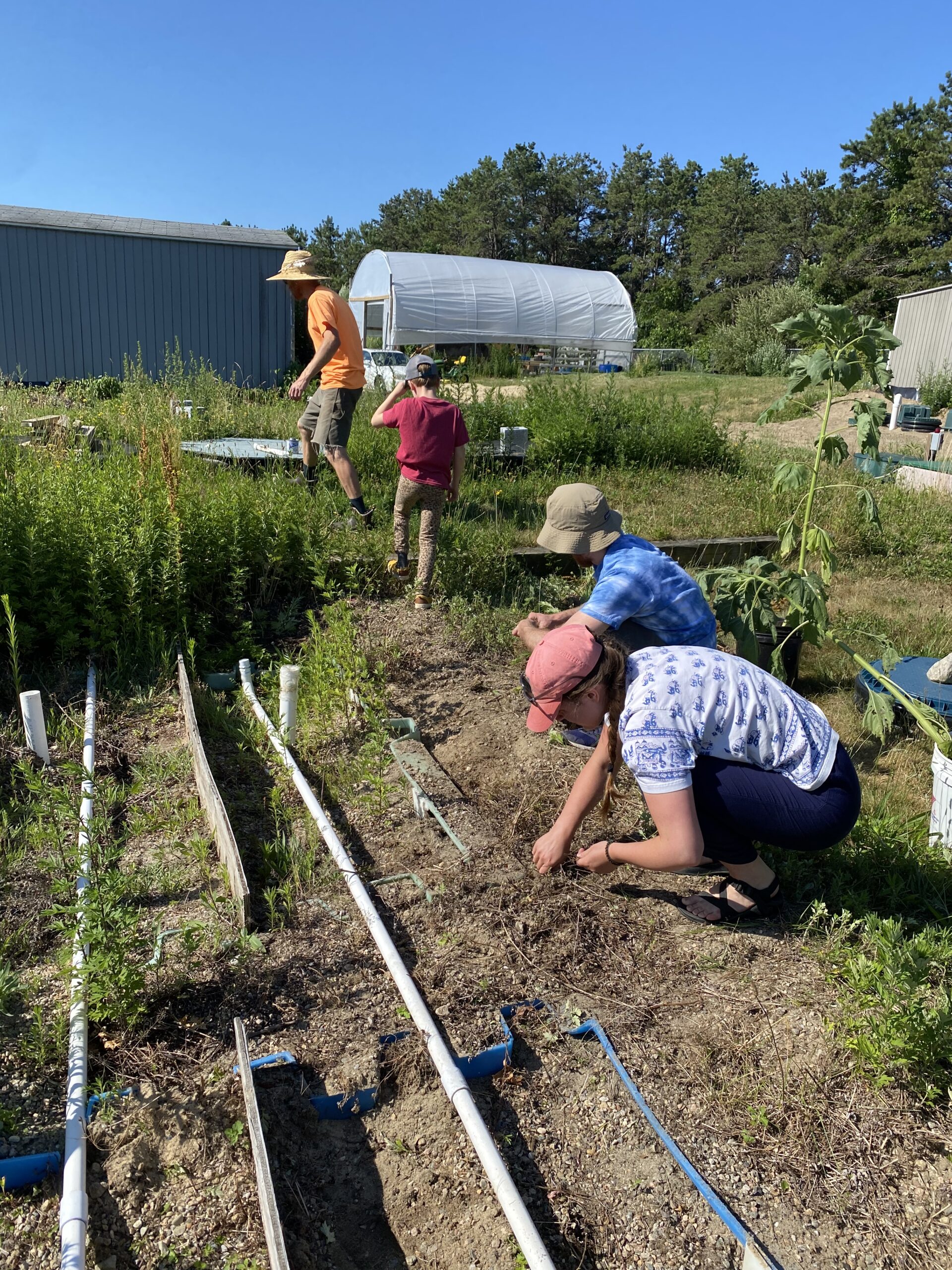 Clean up crew for the new plot: Alice Sowa (Southeastern New England Fibershed volunteer), AmeriCorps member Travis Kornegay, Finn Horsley (coolest helper ever) and his dad, MASSTC Site Operator Bryan Horsley
We just came up with an idea to create filters for the intake pipes using waste wool from the Coonamessett Farm so I just zip tied that on, brought in new soil, and transplanted four madder plants and we have five Hopi Sunflower plants that look like they are weathering the move. Madder takes three years before the root is ready to harvest so we hope they are able to thrive in this area for a few years.
We will be planting some Red Dye Amaranth next and have "control plants" not being grown with wastewater so that we can work with a scientist at MASSTC to see just what's in the leaves and flowers that might be impacting color. Stay tuned.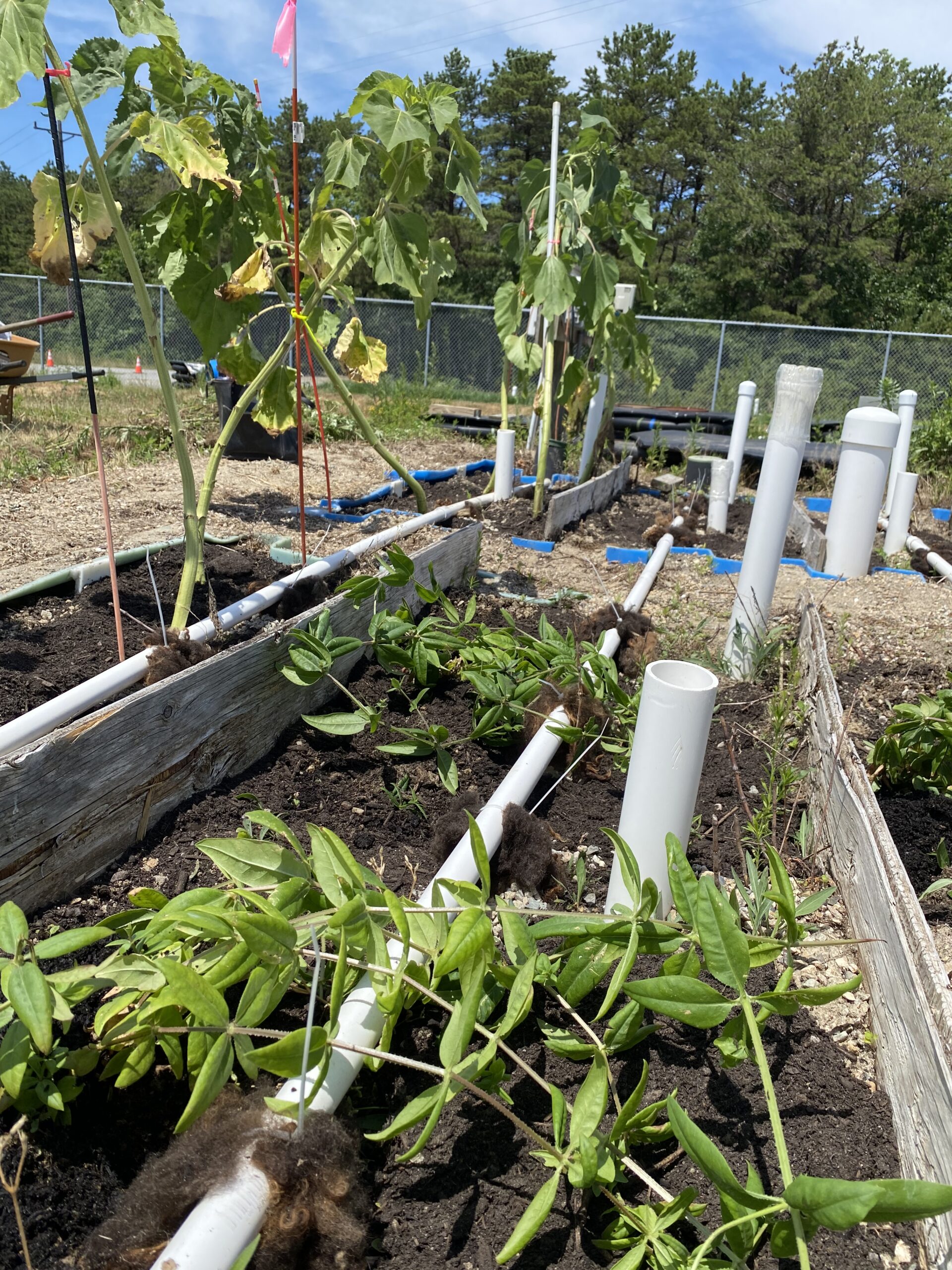 New madder plants transplanted from the hydroponics into wastewater fed soil
Our intention with this project was and still is, to experiment with using the nutrients in wastewater to grow a variety of plants that can be used to make natural dyes. Bryan says "I hope this project will help demonstrate the value of nutrients in our wastewater and that what we consider 'waste' is actually a resource that can readily be used for practical purposes like growing healthy and useful plants, beautiful flowers and making natural dyes. I also see this as a means to alert people to the issue of our habitual wasting of valuable nutrients via our sinks, showers and toilets and the unnecessary pollution of clean water in the process. Change is necessary to achieve sustainability in our water, waste and nutrient systems and I hope this can contribute to that need."
I couldn't agree more and hope this project continues to inform ways U.S. natural dye farmers might hydroponically grow dye flowers year-round using their own wastewater. As we see climate changing and drought becoming the norm, Bryan and I also hope we can find ways to, as he said above, stop the wasting of nutrient rich water farmers could use in a number of ways. Though we are co-growing these flowers with food which is also thriving wildly, the jury is out whether you would want to eat the food grown with wastewater but the flowers? Now that's another thing.
Check out the slideshow below and keep watching our progress via social media and here on the blog.
Please email me at amytropolis@gmail.com to ask any questions or to join in the learning!